Last Updated... Tuesday, 24 April 2007
We're home!!! - and vehicle for hire.
We are Rob and Anne Clare Ward and on 24th September 2004 we gave up work, packed up our house, and on the 12th October 2004 we are off to Africa to follow our dreams...
This website is our attempt to stay in touch with our family and friends and (hopefully) pass on some useful information for like minded people who are thinking of going travelling.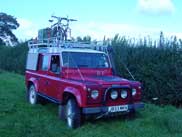 The photo on the right is Billy, our trusty Land Rover that will, hopefully, get us from Cape Town, around southern Africa, and then back to the UK again in one piece. We are planning on taking 1 year (or more)
<![endif]--><![if !vml]>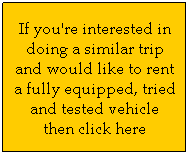 <![endif]>driving around Africa going to all the places we have read about, a few we have not heard of, and probably a few we don't necessarily want to go to... During our travels we will take in a few safari parks, climb Kilimanjaro & Table Mountain, do a bit of mountain biking, and just generally enjoy ourselves!
Our plan is to keep this website updated with a regular diary and some photos. We hope that you will stay in touch with us too by email (robandac@racafrica.co.uk). The links at the side will take you to the various pages with more information, but if you have trouble to access any of the website let us know and we will try to improve it (well, what else will we have to do for the next year ?????)